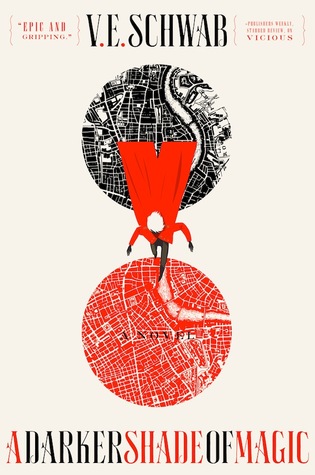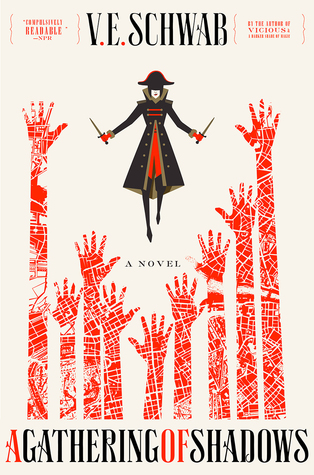 A DARKER SHADE OF MAGIC and A GATHERING OF SHADOWS by V.E. Schwab
What the heck is it about? The Goodreads summary:
Kell is one of the last Antari, a rare magician who can travel between parallel worlds: hopping from Grey London — dirty, boring, lacking magic, and ruled by mad King George — to Red London — where life and magic are revered, and the Maresh Dynasty presides over a flourishing empire — to White London — ruled by whoever has murdered their way to the throne, where people fight to control magic, and the magic fights back — and back, but never Black London, because traveling to Black London is forbidden and no one speaks of it now.

Officially, Kell is the personal ambassador and adopted Prince of Red London, carrying the monthly correspondences between the royals of each London. Unofficially, Kell smuggles for those willing to pay for even a glimpse of a world they'll never see, and it is this dangerous hobby that sets him up for accidental treason. Fleeing into Grey London, Kell runs afoul of Delilah Bard, a cut-purse with lofty aspirations. She robs him, saves him from a dangerous enemy, then forces him to take her with him for her proper adventure.

But perilous magic is afoot, and treachery lurks at every turn. To save both his London and the others, Kell and Lila will first need to stay alive — a feat trickier than they hoped.
My rating: 10/5 stars
The only thing you need to know about this series is it features a lady thief who wants nothing more than to be a pirate. If that doesn't draw you in, maybe the solid world-building and fantastic characters will.
With high stakes and fast pacing, these are the kinds of books you'll want to clear your schedule for. Then, when you're done, you can join me in staring off into space, waiting for the third book to come out.