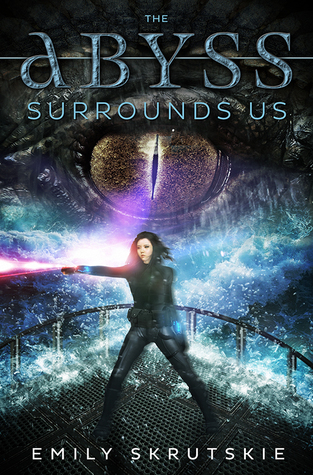 THE ABYSS SURROUNDS US by Emily Skrutskie
What the heck is it about? Here's the Goodreads summary:
For Cassandra Leung, bossing around sea monsters is just the family business. She's been a Reckoner trainer-in-training ever since she could walk, raising the genetically-engineered beasts to defend ships as they cross the pirate-infested NeoPacific. But when the pirate queen Santa Elena swoops in on Cas's first solo mission and snatches her from the bloodstained decks, Cas's dream of being a full-time trainer seems dead in the water.

There's no time to mourn. Waiting for her on the pirate ship is an unhatched Reckoner pup. Santa Elena wants to take back the seas with a monster of her own, and she needs a proper trainer to do it. She orders Cas to raise the pup, make sure he imprints on her ship, and, when the time comes, teach him to fight for the pirates. If Cas fails, her blood will be the next to paint the sea.

But Cas has fought pirates her entire life. And she's not about to stop
My rating: 3/5 stars
I wanted to love this, I wanted it to be a 10/5 star book to add to my recommendations shelf, but it fell a little flat. Still, it has lots of great things–pirates, lesbians, wanton destruction and murder–and it's by no means a bad novel. The story is solid, but the execution is a little lacking, and the romantic subplot felt a little clunky.
Though I enjoyed the read, the whole time I felt like something was missing, that hard-to-pin-down quality that separates okay writing from good writing.
Tastes being what they are, don't be afraid to pick this one up. For you it might be 10/5 stars! And like I said, there's pirates. Hard to go completely wrong with those.