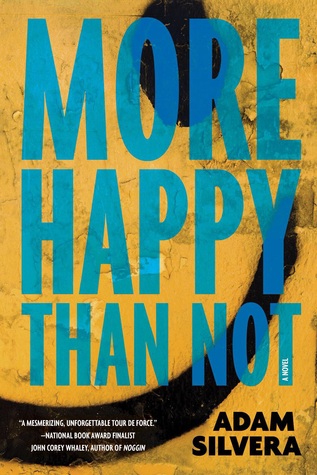 MORE HAPPY THAN NOT by Adam Silvera
What the heck is it about? Here's the Goodreads summary:
In the months after his father's suicide, it's been tough for 16-year-old Aaron Soto to find happiness again–but he's still gunning for it. With the support of his girlfriend Genevieve and his overworked mom, he's slowly remembering what that might feel like. But grief and the smile-shaped scar on his wrist prevent him from forgetting completely.

When Genevieve leaves for a couple of weeks, Aaron spends all his time hanging out with this new guy, Thomas. Aaron's crew notices, and they're not exactly thrilled. But Aaron can't deny the happiness Thomas brings or how Thomas makes him feel safe from himself, despite the tensions their friendship is stirring with his girlfriend and friends. Since Aaron can't stay away from Thomas or turn off his newfound feelings for him, he considers turning to the Leteo Institute's revolutionary memory-alteration procedure to straighten himself out, even if it means forgetting who he truly is.

Why does happiness have to be so hard?
My rating: 5/5 star
With a killer voice and great pacing, this one drew me in quickly. I figured it would be a pretty typical coming-of-age story, but boy howdy did it surprise me, in an amazing way.
The narrative is somehow both soul-crushing and hopeful at the same time, with a protagonist I had no trouble relating to even though our circumstances couldn't be more different.
I can't say much more without spoiling things, but I will say I highly recommend this one!