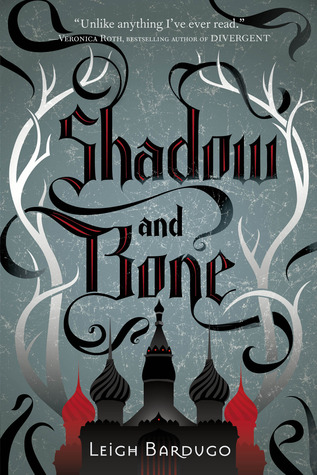 SHADOW AND BONE, SIEGE AND STORM, and RUIN AND RISING by Leigh Bardugo
What the heck is it about? Here's the Goodreads summary of the first book:
Surrounded by enemies, the once-great nation of Ravka has been torn in two by the Shadow Fold, a swath of near impenetrable darkness crawling with monsters who feast on human flesh. Now its fate may rest on the shoulders of one lonely refugee.

Alina Starkov has never been good at anything. But when her regiment is attacked on the Fold and her best friend is brutally injured, Alina reveals a dormant power that saves his life—a power that could be the key to setting her war-ravaged country free. Wrenched from everything she knows, Alina is whisked away to the royal court to be trained as a member of the Grisha, the magical elite led by the mysterious Darkling.

Yet nothing in this lavish world is what it seems. With darkness looming and an entire kingdom depending on her untamed power, Alina will have to confront the secrets of the Grisha . . . and the secrets of her heart.
My rating: 4/5 stars
If you're also tired of fantasies set in carbon-copies of England, this is a really refreshing world to jump into. Ravka is a fantasy version of Russia, and the surrounding countries have a wide variety of cultural influences. The magic system is fantastic, and so are the characters. It's fast-paced and enchanting, and would have made it to five stars if the romance hadn't been obvious and lacking in tension.
One of my biggest pet peeves in regards to romance is if I know who's going to end up together from the beginning of the story, and this is one of those stories. Still, the book is great, and there are actually queer characters! It also has lots of fun adventure intertwined in darkness and violence.
Check it out if you want to sink your teeth into a finished trilogy, and especially if you (like me) were more interested in the sequel book set after the events of this trilogy, SIX OF CROWS.