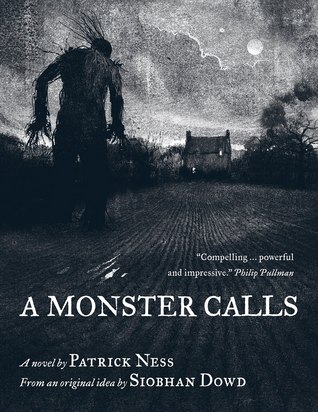 A MONSTER CALLS by Patrick Ness
What the heck is it about? The Goodreads summary:
The monster showed up after midnight. As they do.

But it isn't the monster Conor's been expecting. He's been expecting the one from his nightmare, the one he's had nearly every night since his mother started her treatments, the one with the darkness and the wind and the screaming…

This monster is something different, though. Something ancient, something wild. And it wants the most dangerous thing of all from Conor.

It wants the truth.
My rating: 4/5 stars
This is a fantastic book, with the same fast-paced, engaging, and compelling narrative style I've come to expect from Ness. It also has a healthy dose of almost fairy-tale-like magic in it without losing any of the very real, grounding nature of the subject matter.
It's aimed at a younger audience, but don't let that get in your way of reading. It has complex characters and an emotional resonance for readers of all ages. Just don't forget tissues.