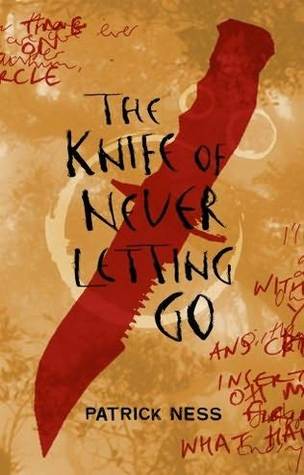 THE KNIFE OF NEVER LETTING GO, THE ASK AND THE ANSWER, and MONSTERS OF MEN by Patrick Ness
What the heck is it about? The Goodreads summary:
Prentisstown isn't like other towns. Everyone can hear everyone else's thoughts in an overwhelming, never-ending stream of Noise. Just a month away from the birthday that will make him a man, Todd and his dog, Manchee — whose thoughts Todd can hear too, whether he wants to or not — stumble upon an area of complete silence. They find that in a town where privacy is impossible, something terrible has been hidden — a secret so awful that Todd and Manchee must run for their lives.

But how do you escape when your pursuers can hear your every thought?
My Rating: 10/5 stars
This trilogy blew me away. It's sci-fi told through a voice that would be at home in a Mark Twain novel, with amazing characters and a plot that sucks you in and doesn't let you go.
The narrative is fast-paced, and you hardly get time to breathe between one catastrophe and the next. This is the kind of story where almost nothing good happens to anyone, but somehow the fundamental goodness of the characters shines through the dark.
Plus, it has some really top notch villains that bring moral ambiguity to a whole new level. And the world-building isn't too shabby either. Whether you're into sci-fi or not, if you love a good story, check this one out.