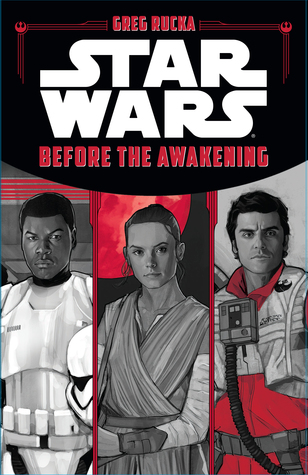 STAR WARS: BEFORE THE AWAKENING by Greg Rucka
What the heck is it about? The Goodreads summary:
A companion piece to the "Journey to Star Wars: The Force Awakens" character novels, Star Wars: Before the Awakening is an anthology book that focuses on the lives of Rey, Finn, and Poe before the events of the Star Wars: The Force Awakens.
My rating: 5/5 stars
If you love Star Wars: The Force Awakens, this is a must-read. Especially if you love Finn, Rey, and Poe, and you have an insatiable need to know everything about their history and lives and character development.
Be prepared for what you learn in this to send you even deeper into a spiral of Star Wars obsession. You'll wake up in the middle of the night thinking about what wonderful characters these three are and how they deserve to be happy.
It'll also prepare you to rain down extreme nerd rage on anyone who dares to suggest that it's unrealistic that Rey was able to use a lightsaber.