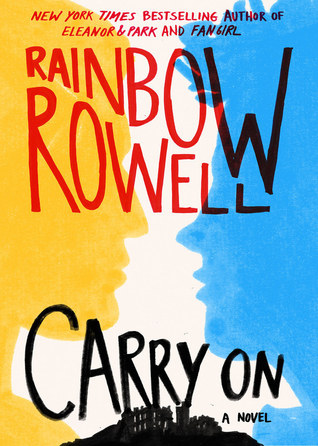 What the heck is it about? Here's the Goodreads summary:
Simon Snow is the worst chosen one who's ever been chosen.

That's what his roommate, Baz, says. And Baz might be evil and a vampire and a complete git, but he's probably right.

Half the time, Simon can't even make his wand work, and the other half, he sets something on fire. His mentor's avoiding him, his girlfriend broke up with him, and there's a magic-eating monster running around wearing Simon's face. Baz would be having a field day with all this, if he were here—it's their last year at the Watford School of Magicks, and Simon's infuriating nemesis didn't even bother to show up.
My rating: 4/5 stars
At first glance this sounds like a Harry Potter knock-off, but it's not so much a knock-off as it is a gentle satire of the HP universe. The magic system in CARRY ON is stellar, and I wish there were a dozen more books set in this world. If you're worried this book is too derivative to be original, don't be. The narrative is its own.
And so are the characters! Everyone is fleshed out, and because the narration bounces between the main cast, you get to experience events from different perspectives. Multiple POV is my jam. And speaking of things I can't get enough of–
The romance in this one is my favorite trope, enemies to lovers. I'm very picky about romantic subplots, but this one's handled with finesse.
Overall, the story is engaging, the world is rich, and the characters are fantastic. The only thing keeping it from being 5/5 stars, and the only caveat I have, is the bisexual erasure. Nothing makes me lose faith in humanity like a character who has previous, genuine relationships with someone of a different gender in the past only for the narrative to sweep those relationships under the rug and declare that character to be gay without even mentioning the possibility of bisexuality/pansexuality/etc.