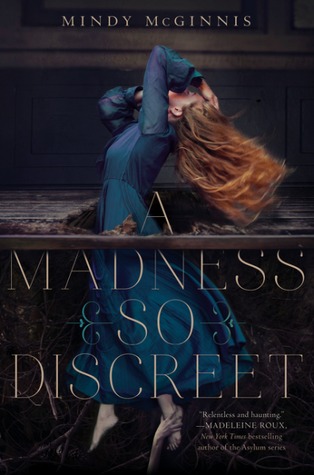 Starting the new year off right with A MADNESS SO DISCREET by Mindy McGinnis.
What the heck is it about? Here's the blurb from Amazon:
Grace Mae is already familiar with madness when family secrets and the bulge in her belly send her to an insane asylum—but it is in the darkness that she finds a new lease on life. When a visiting doctor interested in criminal psychology recognizes Grace's brilliant mind beneath her rage, he recruits her as his assistant. Continuing to operate under the cloak of madness at crime scenes allows her to gather clues from bystanders who believe her less than human. Now comfortable in an ethical asylum, Grace finds friends—and hope. But gruesome nights bring Grace and the doctor into the circle of a killer who will bring her shaky sanity and the demons in her past dangerously close to the surface.
My rating: 5/5 stars
Historical fiction can sometimes drag by when the author muddles up the story with too much detail, but this book strikes a perfect balance between detail and action. When you pick up this book to start reading, plan to be up all night, because the story grabs you immediately and doesn't let up until it's over.
All the characters are human, even the monsters. And can we talk about the relationships between women in this? So much of the story is brutal, but the moments of friendship and love between the female characters are tender and touching.
Ultimately, this book is about women whose lives were destroyed by men in a society that sees women as weak and inherently flawed.
And did I mention there's no forced, awkward romance in it? If you want a book where–gasp!–a man and a woman work together to solve crimes without inevitably falling into bed together, this is for you.